THE
FAMILY

BEHIND THE WAY OUT

Come meet those who have chosen to offer a way out to survivors of sexual exploitation in Quebec.
Many Montrealers are facing exclusion or are experiencing diverse social problems such as domestic violence, addiction or homelessness. In order to bring them comfort, several organizations and related initiatives work in these areas of expertise. The team at The Way Out is also there to help !
Although considerable effort is being made with individuals living such hardships, services for victims of sexual exploitation are almost non-existent. The victims are often living with many of the issues listed above and many find themselves selling their bodies, believing that it will help them meet their basic, emotional and/or material needs.
Nothing that The Way Out does would be possible without a highly committed team : « The Way Out » family !
The ambassadors have diversified roles to promote The Way Out.
We are more than happy to highlight their engagement!
SUPPORT

TO THE BOARD OF

DIRECTORS
A board support team functions to bring counsel and guidance to the board of directors.
The Way Out has many members that are involved operations at different levels: Logistic, Financing, Clinical consultation, the Gala coordination and many other sectors.
Sarine, M. Ed, B.Ed, B.Sc., is a passionate educator and works in the field of Education as an elementary school teacher. Her firm belief in instilling and empowering students to believe that they have the capacity to excel, to recognize their potential to contribute to their society and become individuals that can impact their generation for the good, is her underlying philosophy.
With social justice at heart, Sarine is driven by care and compelled towards being part of the making of history by helping victims of human trafficking find a way out.
There are currently nine members sitting at the board of directors, two of which joined during the past year.
Philanthropist and pastor for 30 years in the West Island community, Gerry Plunkett and his wife Marcia have a heart to help victims of sexual exploitation. In the spring of 2012 Gerry recruited a team and formed a committee dedicated to the establishment and growth of this charity organization. Their prime goal is to provide victims a way out of the sex industry.
Sylvie
LEMIEUX
Head of Administration
As an administrator at an airport, Sylvie Lemieux has been involved in her community for more than 20 years, whne she had the calling to help the organization in the rescue of victims. Ms. Lemieux is eager to provide a refuge for these young women who are often lacking a welcoming, safe place. Lemieux's efforts are focused towards the board of directors where she helps ensure good democratic governance.
Mario Teti and his wife Nadine are entrepreneurs in the West Island. Together, they own a bakery/delicatessen. Having witnessed the problem at hand, they recognize the need for such a service and have joined their resources towards the establishment of the organization. Being involved in several philanthropic works, Mr. Teti brings his experience as a financial director to ensure sound financial management.
Ms Marcela
PEÑA-VEGA
Public Affairs
Ms. Peña-Vega is an economic adviser and manager of cooperation and international development programs. She holds a degree in Economics with an MBA and a Master's degree in International Studies, Economics, Cooperation and Development from the University of Montreal.
She has over 15 years experience in project management coupled with technical expertise in economic empowerment, entrepreneurship, employability, women's rights and youth in Latin America, Africa, Asia and Quebec. She has experience with organizations such as: CECI, L'Œuvre Léger, SUCO, PLAN, OXFAM, IICA, IFAD and UNODC. She is currently Program Manager at DID (Développement International Desjardins).
Ms. Peña-Vega is committed to community development, including advocating for the rights of women and girls in Canada and elsewhere.
Me. Patricia
CHAMOUN
Legal Affairs
Me. Patricia Chamoun holds a Bachelor's degree in Civil Law and a Juris Doctorate in Common Law from the University of Ottawa. She has also completed studies in political science and economics, with a specialization in public affairs. She began her career as a lawyer in a firm in Ottawa / Gatineau, before relocating to France (Paris and Lyon) to work at a renowned international law firm. She returned to Montreal where she founded her own firm in 2010. Me Chamoun and her firm represent SMEs, particularly in the areas of business, real estate, construction and technology. In the last several years, due to her passion for the arts, music and cinematography, Me. Chamoun developed an expertise in the field of Entertainment Law.
Me. Chamoun is a member of the Chamber of Commerce and Industry of Laval (CCIL) and the Canadian-Lebanese Chamber of Commerce & Industry. She is often called upon to be a speaker and to animate professional training workshops.
She also sits on various boards of directors, including the Jean-Marc Paquette Foundation and Charles-Perreault elementary school. She is a director and member of the Executive Committee of the Caisse Desjardins Centre de l'Est de Laval. She is one of the co-founding members of the Lebanese Film Festival in Canada.
Her ultimate goal is to make a real difference in people's lives.
Jason, B.COM, is a personal finance advisor. Now in his fifth year of service to his clients, Jason knows the importance of sharing and expanding his empathy in order to create strong business relationships with the people he serves. Jason has been recognized by Desjardins on a number of occasions with the annual Distinction Award for surpassing annual expectations and objectives, as well as for his exemplary client approach. He brings his expertise to the organization's financial structure.
Ronald Lepage first studied in management and furthered his education in the fields of philanthropic management and drug addiction treatment at Université de Montréal. For many years, he successfully and passionately led a community organization in the region of Abitibi-Témiscamingue. The Gérard-Brisson Center was charged with street work and is an internal treatment center for dependence, as well as a resource for social reintegration. Under his direction, the center has been certified by the MSSS. His role is to manage all the domains of the organization including organizing assistance and support services for the victims.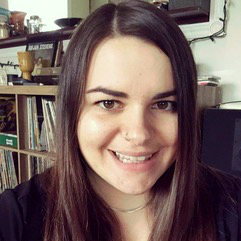 Gabrielle
BARRETTE
Outreach Worker
Gabrielle has a desire to help people in need and to accompany them on their journey towards a promising future at the height of their potential.
She began her career as a case worker in a Youth Center with her social work technique diploma in hand. She was also a residential counselor (intervention) in a shelter for women victims of domestic violence.
Gabrielle intends to make a difference with the people she meets thanks to her human approach and her attentive ear, and to encourage each of the steps that will lead these women towards their development and their autonomy.
Rose
SULLIVAN
Outreach Worker
From her early adult years, Rose has been moved by the issues of social exclusion, and since then has been working, benefitting from community services as well devoting her time as a volunteer and activist. Curious and thirsty for knowledge, Rose attended training courses on the subject of relationship building. In the Spring of 2021, she will graduate with a technical degree in social work.
Alongside her reality as a mother and student, she made a precarious living, and has been in and out of the sex industry between the ages of 15 and 30.
In an effort to understand the associated suffering and trauma, Rose became involved in the fight against sexual exploitation. Today, almost 10 years later, she believes in the importance and validity of the experience of the survivors along with peer support. For this reason, after careful consideration, she joined the team at The Way Out.
Loraine
LAPLANTE
Liaison Worker
A survivor who completed the Alternative to the Sex Industry program at The Way Out, Loraine is a woman who has been deeply involved for several years in the field with women victims of sexual exploitation.
She wishes not only to represent hope for these women, but to provide them with concrete help. Through her life experience and her knowledge, Loraine brings a unique and incomparable touch to the team.
Since April 2021, she has successfully completed the peer helper program given by the AQRP and will start in September 2021 a certificate in substance abuse at the University of Sherbrooke, Longueuil campus.
Lyne
Clinical Coordinator
Lyne has completed certificates in Drug Addiction and in Mental Health. She is currently studying to obtain her "BACCAP fondement et pratiques en sciences sociales et santé". Living at the residence on week days, she accompanies women in their social reintegration process.
Tammy
Residence Attendant
Tammy has more than 20 years of volunteer and professional experience in the social, administrative and managerial fields. She also has 31 years of experience providing unconditional love as a mother which she shares with all human beings who need it.
She joined our staff deciding it was time to fuel her desire to have a greater impact on society. A humanitarian at heart, La Sortie was the perfect destination as the fight against sexual exploitation has always been her passion.
"Don't try to change the world, find something that you love. And do it every day. Do that for the rest of your life, and eventually, the world will change." Macklemore ♥️
Sophie
LALIBERTÉ
Senior Consultant
Sophie Laliberté is a lawyer and is a philanthropic management professional with more than 20 years of experience in the field and stands out for her professionalism, determination, creativity and passion.
Sophie specializes in the development and execution of a strategic plan for fundraising campaigns and has held several positions in the general management of organizations such as Diabetic Children's Foundation, Development and Peace, the Fondation du Pensionnat du Saint-Nom-de- Marie. Sophie worked as a consultant for BNP Philanthropic Performance and KCI, which allowed her to develop experience in various spheres of the profession.
She previously headed the Women's Y Foundation where she piloted the $ 10.5 million redeployment campaign. She always believed in the importance of women's causes, and was at the heart of the restructuring of the Women of Distinction Gala. Over the course of her career, Sophie has collaborated in several fundraising campaigns totaling more than $ 20M.
Her two great passions are horticulture and travelling. She feels privileged to have had the chance to visit several countries on the African continent, in Central, North and South America, in Europe as well as in Oceania.
Isabelle
QUINTIN
Communications Manager - Public Relations
Isabelle's experience in business development and marketing, her empathy as well as her desire to give back, led her to get involved in her community and join the team at The Way Out. Her degree in tourism opened up opportunities for her to travel to different parts of the world. During these trips, Isabelle learned more about herself while acquiring a deeper understanding and respect for cultural diversity. 
Her role in The Way Out as awareness / public relations manager involves raising public awareness while breaking down barriers of prejudice. She intends to promote the organization so that we can reach more women and help them find a way out.  
Her interpersonal skills will certainly allow her to bring greater visibility to The Way Out. This in turn will open up more opportunities for us to fund our activities, ultimately helping more women and impacting more lives.
Sara
CARPENTIER
Administrative Assistant
Sara Carpentier is a part-time administrative assistant and helps to produce communication tools and manages the donor database.
Pascal
TAILLON
Technical Coordinator & Videographer
Pascal is capable of creating miracles when it comes to all things tech related! Our entire team can count on him, no matter the need. He is involved in the web development for The Way Out. He also participates in renovation, scripting for videos, publication formating and social media imagery editing.